Love her conceptual photoshoots which has a vintage feel and is also quirky =) She's really superb in make-up and I simply admire how she's able to pull off all those outfits! And also the red hair... Red hair is just so ravishing but too bad red hair dyes fade off really easily.
And looking at all those hatties she wore, I'm kinda regretting that I didn't manage to grab some from Bangkok... There were several hatties being sold in Platinum Fashion Mall in a variety of sizes and designs from small clips to bigger head gears =s And I so wanted to get a bucket hat i saw in Suan Lum Night Market but it was kinda overpriced for something which has been used as a shop decor for some time and collected dirt =(
Anyway it was an awesome shopping trip with many great finds. Some places are seriously like hidden gems where a wide array vintage clothes at reasonable prices could be found... unlike Haji Lane here in Singapore which is sooooo expensive and has limited offerings I find it ridiculous after coming back from Bangkok =) Love love love shopping in Bangkok!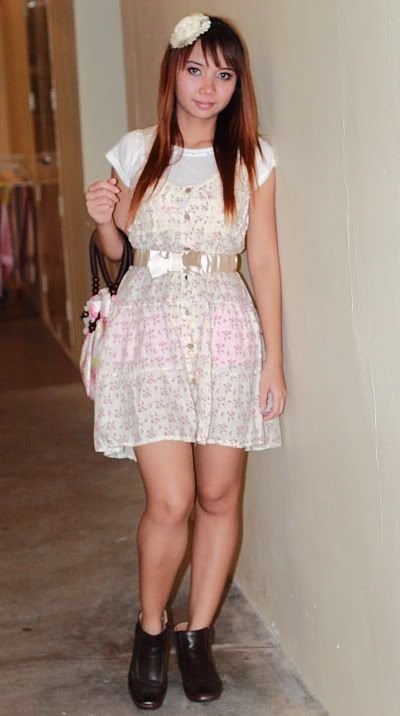 Outfit from Bangkok- Floral bag, dress & hair band (boots were from Hat Yai, belt my own). 
Too lazy to edit any pics so I don't care about the pink underwear being visible & vastly illuminated by the camera flash =p Haha. Shot taken by my sis when i came home.
Bought the dress from Pretty Lilly in Chatuchak- the shop/stall is pretty much the style i'm looking out for... cream colored floral fabrics, laces, etc. Very pretty and feminine.
Hope to take better pics of my new outfits... mostly high waisted demin pants, khaki dresses, pretty tube tops, etc! Excited to wear them out =)