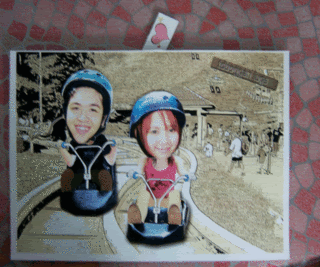 Made this card for my bf, edited the pics taken during my 21st birthday when we went to play the Luge for the card. It was a really memorable and happy day for us.
I'm bad at animated gifs and didn't use a tripod to take the pics so it's a lil uneven. 
But the idea is that when the lever with the heart is moved, so will our heads =)
The simple mechanisms of paper engineering are self taught when i did an interactive children's book for my school project a few months ago... It's so hard to find the secret of the mechanisms online and the library doesn't have any books on it except for pop up mechanisms. I learnt mechanisms of transformation/metamorphosis, pull-tabs (the one used for the card) and diffusion. My interest in paper engineering just grew as I did the project.
Here is the cover design and character design for the book by me. 
I'm kinda in the process of going about learning if it's possible to publish it.. slowly ... not much progress cos I'm not very motivated now.